About us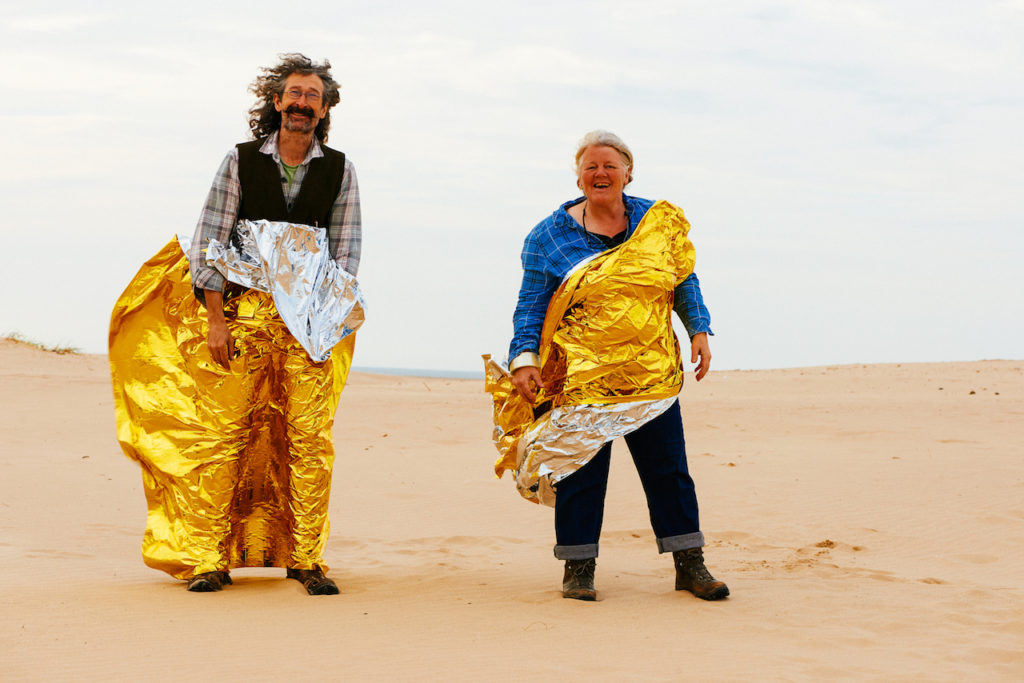 And Now: was formed in 2013 to consolidate decades of working together by Ben Rigby and Mandy Dike.
Mandy is an artist, designer, maker, pyrotechnician, deviser, collaborator and creative director for over 35 years. Making site-specific, event-specific and touring performance, mixing technique and art forms to create a unique aesthetic that works outside and in. Conjuring up beautiful, purposeful, fleeting experiences to inspire optimism and hope.
She was co-founder and Principal Designer of The World Famous Fireworkers, Joe 90's Spectacles and The Front, and has worked extensively with a number of other leading UK arts companies, significantly: Welfare State International, Walk the Plank, Theatre of Fire, Ludus Dance, Acme Productions and the development of the early outdoor productions at the Dukes Playhouse Lancaster.
Ben has technically designed and made for performance and installation for over 25 years. Exploring systematic design and fabrication methods inspired by pattern and proportion. He has developed safe construction methods for large scale sculptural builds and has an individual passion for working with natural materials.
And Now: draw together highly skilled, experienced teams of freelance artist-makers, performers, pyrotechnicians, writers and musicians along with technical crew, production and site managers who have worked together over many years.
Audience experience is at the forefront; we make accessible work for people of all ages, identity, ability and ethnicity. We endeavour to create temporary communities sharing extraordinary first hand, simple, visceral experiences, leaving room for audiences to bring their own meaning to the event.
Fire is central to our work: it is present and important in all cultures; it speaks; it is symbolically strong; connecting with our primal beings, it inspires focusses and quickens minds. The energy of fire engages with emotions, passion, transformation, purification, contemplation, ceremony, wildness and beauty.
Approach: And Now: actively seek to work in spaces not specifically built for performance or exhibition. We find opportunities for audience to engage with the immediacy of their surroundings. Creating work that focuses and draws together visual, cultural, social, historical and geographical contexts. We hope to develop more responsible, durational "slow-art" work that explores and merges the boundaries of visual and performance art, landscape, installation happenings and spectacle.
Art Farming: In 2020 we took on CAE Ysgubor. It is our home; the base of our art work; our farm. The holding is managed on organic principles; the 26 acres extend from the flat valley bottom to the crag at about 300m from which you can see the top of Snowdon about 6 miles away. As we bring the old buildings back in to use we aim to provide opportunities for engagement with our sustaining art farming practice.
Where we have worked: Brighton Festival; SO Festival Skegness; Bestival; Royal Botanical Gardens Kew and Wakehurst Place; Enchanted Parks for Newcastle Gateshead Initiative; Wilderness Festival; The Wye Valley AONB River Festival; Inside Out Festival Dorset; Bridport Arts Centre; The John Muir Festival Finale at Loch Lomond; Exeter Unexpected Festival; Halloween Lantern Carnival Liverpool with The Lantern Company; The Magna Carta Celebrations at Salisbury Cathedral; Hull 2017; Royal Botanic Gardens Edinburgh; Stourhead, National Trust; Basildon Park, National Trust; Oerol Festival, Netherlands; Norwich and Norfolk Festival; Les Envies Rhonements Festival, Citroen Juane France; Devizes Carnival; London Borough of Culture; Light up Poole.
Company Information: We focus on the balance between addressing safety concerns whilst allowing the greatest possible intensity of experience and participation. All work is carried out with adherence to the company's safety policies; our pyrotechnicians are BPA certified; we undertake event specific risk assessments and carry £10 million Public Liability Insurance.
Limited company number: 8423794 VAT number: 183 663189
Address: And Now: Cae Ysgubor, Waunfawr, Caernarfon, Gwynedd, LL54 7AJ
E-mail: [email protected]
Phone: 07967 021042